About Us
Dr. Aaron D. Adame
Dr. Adame's educational background includes a Bachelors of Science and his Doctorate in Optometry degree from the prestigious University of California at Berkeley. In 1986 he received the U.C. Berkeley Optometry Alumni Associations Outstanding Merit Award for Special Services.
He is a member of the American Optometric Association, the California Optometric Association and past member of the Lions Host Club of Covina and Hispanic Optometric Association of Los Angeles.
Dr. Adame currently participates in a children's eye care program sponsored by the Whittier Host Lions Club and the East Whittier Lions Club. These programs insure that needy children in the Whittier community can obtain the important eye care necessary for healthy eyes and good vision.
Early in his optometric profession Dr. Adame worked seven years for a well known ophthalmologist, Dr. William De La Pena, M.D., to enhance his clinical expertise. In 1996 he obtained his optometry board certificate to treat and manage ocular eye disease with therapeutic pharmaceutical agents.
Dr. Adame has served the Whittier community since 1995 when he took over his current optometric practice located in the Historic Uptown area of Whittier. This same practice was originally established in 1945 by Dr. Gerald Rapp, O.D.
Dr. Adame speaks both English and Spanish. He is married to his wife Elena and has two daughters, Celina and Alyssa.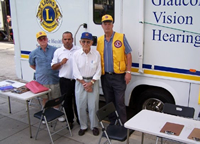 Charitable interests:
U.C. Berkeley Alumni Scholarship Committee
U.C Berkeley Regents
Southern California College of Optometry Hispanic Endowment Fund
E.L.A.C. football
La Serna High School football
Luthern football
Bombers baseball
Smith Park Baseball Association
The Bob Hope Classic Golf Tournament
Our Opticians
Our opticians are here to assist you with your important optical needs. They can answer many of your questions regarding insurance coverage, contact lenses, eyeglass frames, spectacle lens features and other related technical questions. Please do not hesitate to call them for any unanswered question you may have about your eye care, eye welfare or vision needs. They are eager to provide you with the best professional service possible.